I'm proud to share this .ftl mod of the
BattleStar Pegasus
and her full compliment of fighter wings. AE and CE ready.
***DOWNLOAD LINK Pegasus V5***
Mediafire
Weapons:
Two new weapons, the
Battlestar Main Battery
, a six shot chargegun with brand new weapon animation and the
Damage Control/Medical Team
, which is a three in one system repairing hull damage, system damage and restoring crew health. If only it could put out fires and seal hull breaches...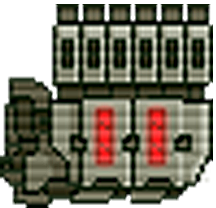 This is a two weapon slot ship, so
Autofire
toggle button is missing from the UI. To get
Autofire
to work, simply press CTRL+CLICK on an enemy system, or your own system for that matter and you will
Autofire
.
Fighters:



The Viper wings are zero power defense/anti-drone fighters so you should always be able to launch and recover them. Pegasus has two missile Raptor wings at 2 power and an Assault Raptor wing at 3 power. Assault Raptors are armed with missile pods like the other two Raptors, but uses dual launchers with Incendiary ammo which causes more system, crew and fire damage.
Augments:
Fighter Landing Bays:
Non-destroyed fighters are recovered when jumping so you may reuse your fighters again and again and again. This has all happened before...
Ship features:
40
hull points to represent her extra armor. Uses a matching UI shield graphic.
4
person Medbay
4
person Teleporter to represent Raptor marine boarding actions.
6
Crew: Human, Engi, Zoltan, Rock, Crystal, Mantis.
10 Power, Shields 1, Engine 2, Teleporter 1, Drones 4, Weapons 4, Medbay 1, Oxy 1, Pilot 1, Sensors 1, Doors 1.
Lore:
Undergoing refit at the Scorpion Shipyards of the Galactic Federation, at the time of the surprise Rebel attack, her data core is the last to contain the secret Rebel plans before the rest of the fleet was destroyed. She is down on power and systems and will need to be upgraded on her journey to rendezvous with the Federation Base while on the run from Rebel forces.
Notes:
- Compatible with
Expanded Enemy Window 1.2
-
V5
is likely the FINAL version. Baring any sound files I might add in the future or small balance tweaks, Pegasus is ready to frak your world.
---Known Issues---
- Upgrading to a Clonebay moves the cryotank graphic outside the room into a corridor. Reason unknown.
Credits, in no particular order:
For all those that answered my questions, and for the resources, guides and tools posted on this forum, I give my thanks.
MrRazerWolf, Rad-82, kartoFlane, Sleeper Service, KuroSaru, Vhati, Metzelmax, TaxiService, Gencool, Chrono Vortex, Stylesrj, wadusher0, stargateprovider, Kierany9