Update:
Bug Fix, Graphics updated. download link has been updated.
Hello, this is my second ftl mod, the Letze Reise. This time around I challenged myself to make a mod that is more fitting with the graphic style of ftl so I used peices from many federation ships. My goal for this ship was to create a vessel that combines elite mercenary equipment with a pirate-criminal theme and crew, this stealth ship is the object of ghost stories. Replaces Stealth B.
The Letze Reise
"The Journey's End"
This aging stealth cruiser was built as a federation prototype deploying early cloaking field technology. Many years ago it was stolen by a notorious mercenary, who named the ship Letze Reise ("Journey's End") because of the impressive amount of hired assassinations it would complete using its stealth abilities. Stories told of the Letze Riese give it an almost ghost-like reputation, namely due to its cloak-and-dagger tactics. It is said that once you notice the menacing silhouette of this craft, its already too late, because you're ship has already been boarded, and your crucial systems targeted.

Its almost ironic however, that this vessel was dubbed Letze Reise. It has seen better days, and it too is approaching the end of it's voyage. As its final mission, the Letze Reise struck a deal with the federation, which is also in a time of desperate struggle. If it will take on this courier mission and run the details of the rebel fleet to the federation capital, the Letze Reise and her crew will be granted pardon for the impressive list of violations they've managed to rack up.
Starting Equipment:
Ion Blast
Halberd Beam
Stealth Weapons
Starting Systems:

Pilot: II
Sensors: I
Teleporter: I
Cloaking: III
Weapons: IIII
Shields: II
Engines: III
Medbay: I
Oxygen: I
Reactor: 11
Floor Plan: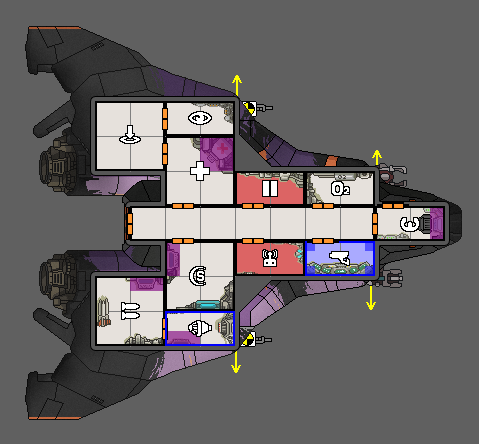 Download Link:
https://www.dropbox.com/s/zwqpdmh3j6yyiem/Letze%20Reise.ftl