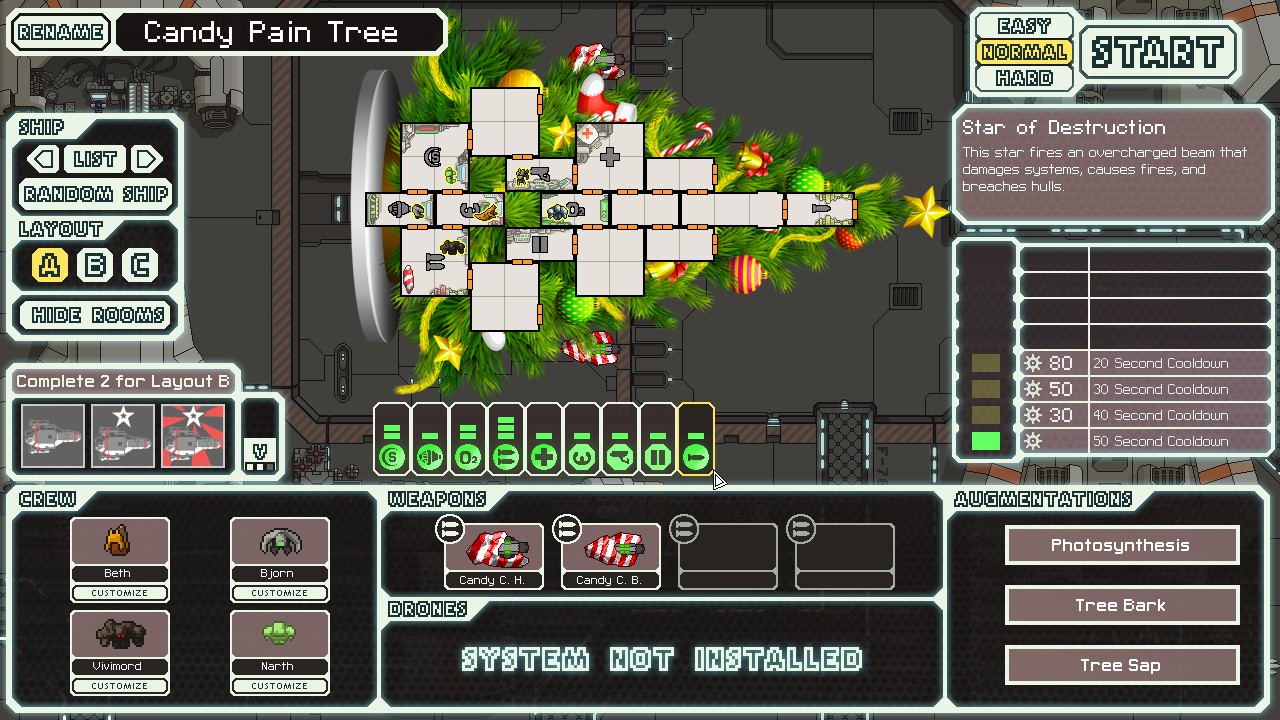 Install with
Slipstream Mod Manager
MediaFire Download Link
AE.1 - Replaces Kestrel-A
Code: Select all
Initial Release:
-No version number

Update for AE.1:
-Updated for AE compatibility
-Removed starting teleporter and duplicate weapons; weapons can now appear in the game
-Increased starting oxygen level
-Rearranged some rooms, applied some color to some things
-Drone system can now be used; it was left out of initial release
-Renamed starting augments
-Fixed offset mistakes made by newbie modder :p

This was a bit impromptu, but when I googled
Christmas Tree Clipart
, I found a nice image with a transparent background ready for me to use.
It's a candy cane train... I mean, candy pain tree.
It's a tree, decorated for Christmas. It is topped with the Star of Destruction, which fires a devastating beam of light.
The tree has Candy Cane weapons, which can be used to bloat your enemies to death.
Many races have assembled together on this tree, to seek out the Rebels that are ruining Christmas for everyone.
Pre-AE update: I think this ship is OP, due to the starting conditions, but I don't care. I'm not the one playing it.

Post-AE update: I still think this ship is OP, even though I removed the teleporter and duplicate weapons. I think it is those candy cane weapons...

Video:
BrenTenkage - Initial Release -
Whole run
Biohazard063 - vAE.1 with
Faster Than Christmas (CE)
-
Part 1
-
Part 2
-
Part 3
BrenTenkage - vAE.1 with Faster Than Christmas (CE) -
Streamed Live
Credits
The usual
Plus some free clipart site
and BrenTenkage for wanting a Christmas mod, although due to swearing, I can't really listen to those videos, and it is a bit boring with mute on. His video here is free from swearing.