My intention with this mod is to provide more variety to the gameplay through new available pilots. Mod adds currently 2 new pilots to the base game, each with unique skill, dialogue and art.
First, let's start with a malevolent research AI.
Cal is mainly a support pilot, in spite of his personality of a violent, human-hating sentient AI.
A.C.I.D. Discharge
spills adjacent tiles with A.C.I.D. on repair. He doesn't leak A.C.I.D. Coolant voluntarily however, as the damage he sustained during a building collapsing on him left his body with amny ruptures and holes, through which A.C.I.D. flows sometimes. Nonetheless this provides many tactical benefits.
His efforts to 'help' in the war are merely a byproduct of his twisted desires to know more about the Vek and, to quote him, to cause unneccessary pain and suffering. But don't worry! Cal is 100% under your control when you put him in a mech.
Next up we have the founder of Archive, Inc. and a grizzled war veteran.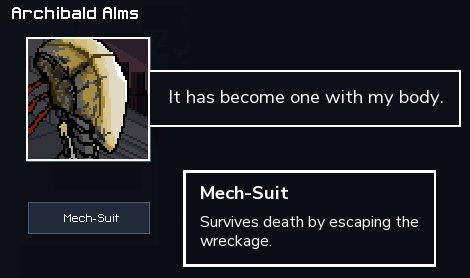 Archibald Alms is a utility pilot. His
Mech-Suit
ability provides him a second chance, as he can eject from his mech and fight on his own. This is possible thanks to the blessing and a curse he received, his Revenant Unit. These repurposed AI bodies are utilized as vessels to carry one's consciousness even post mortem. Archie's suit is an outdated military model, coming with an integrated Auto Cannon, which does one damage without push to a range of maximum 2 tiles. But be wary, as Archibald is still very frail, having only 1 HP and not having 'Massive' trait.
Please, let me know if you encounter any bugs or oddities! Big thanks to
Lemonymous
, who provided all of the coding. I can't express my thankfulness!
You can download this mod
here
.
To run the mod, you will need the brilliant
mod loader
.