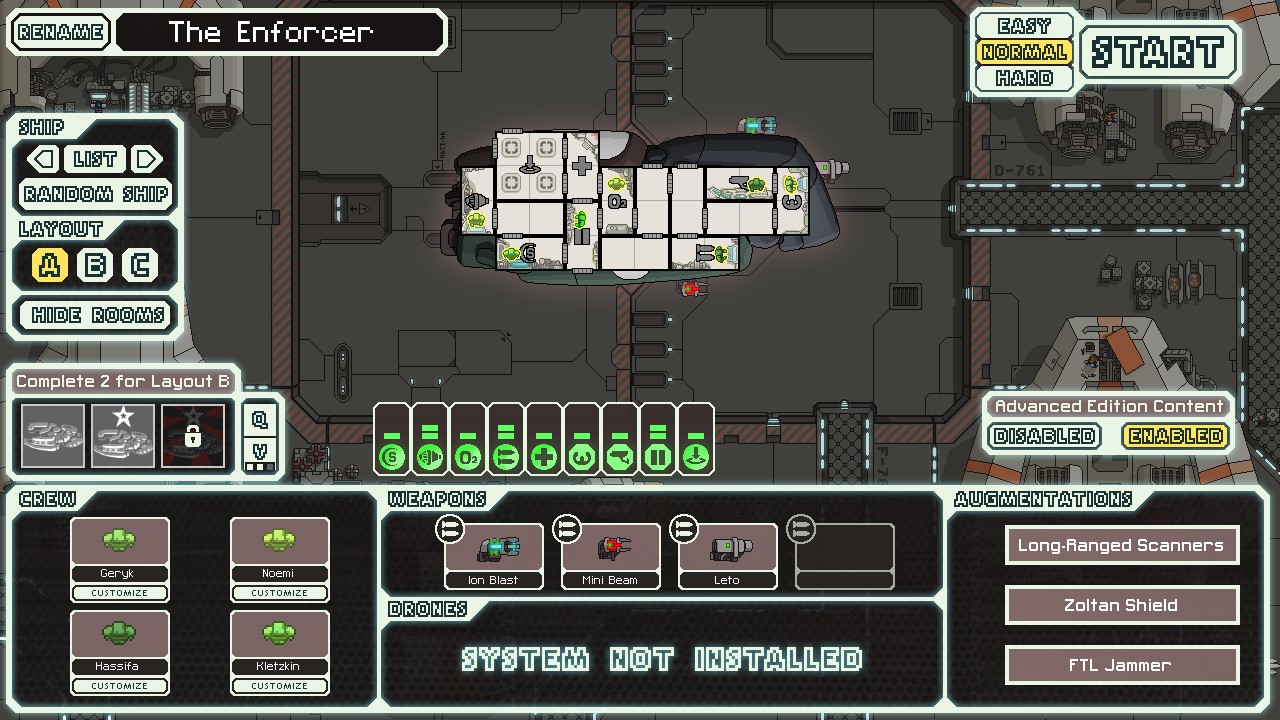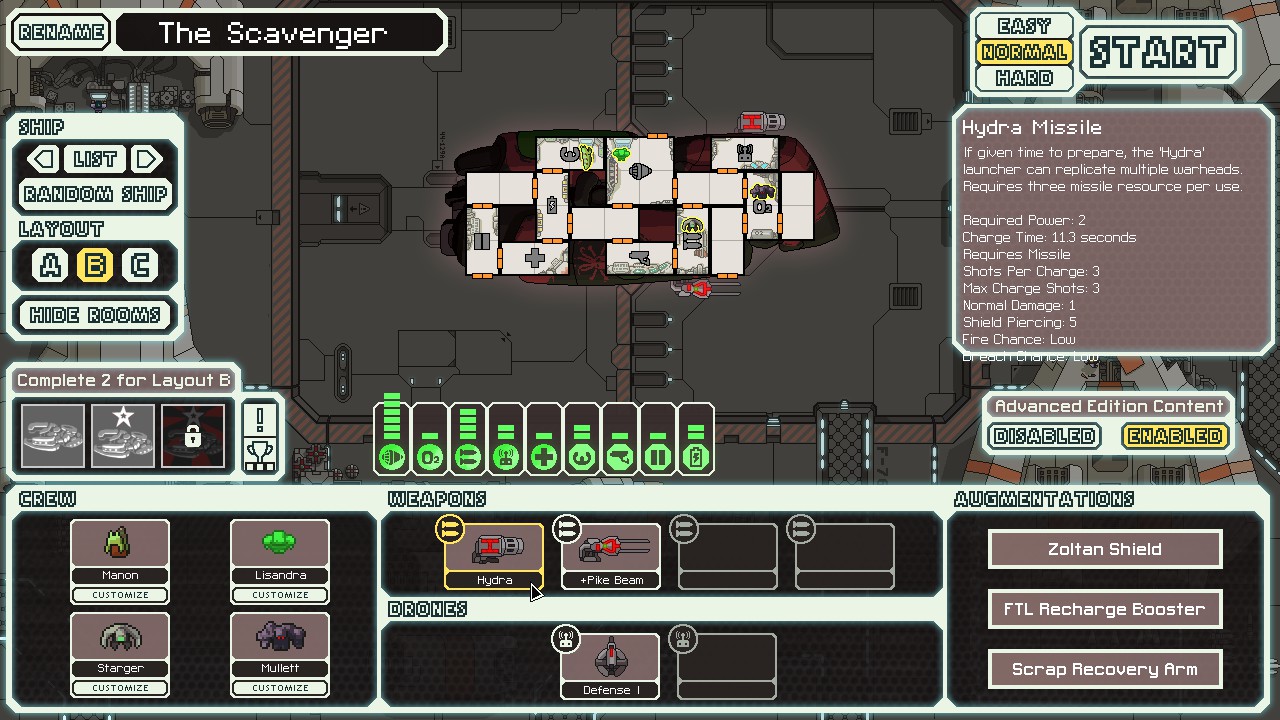 *
Old AE.1 Scavenger hanger
from 1.5.x, so you can compare differences to the new 1.6.x hanger if you wanted to
Install with
Slipstream Mod Manager
MediaFire Download Link
AE.1.1 - Replaces Zoltan-A and Zoltan-B
Code: Select all
Initial Release of 1.0:
-The Enforcer, produced by 5thHorseman; http://www.subsetgames.com/forum/viewtopic.php?t=17191

Changes for 1.82:
-Updated by RAD-82 to look more like the original vision, plus a few other changes
-Read about those things here: http://www.subsetgames.com/forum/viewtopic.php?f=11&t=17191&start=10#p63404
-Added Type-B, The Scavenger, an illegal mining ship

Update for AE.1:
-Updated for AE compatibility
-Rebuilt room layouts from scratch
-Fixed weapon mounts; RAD-82 wasn't very good at placing them in Superluminal for the 1.82 update
-Increased weapon slots by 1; can now use as many weapons as enemy Zoltan bombers
-Enforcer: Low reactor power costs more in Advanced Edition, added 1 system power to weapons to compensate
-Scavenger: New room layout; expanded upon the new layout used by pirates in AE
-Scavenger: Removed starting shield system as it is no longer required to work the Zoltan shield
-Reworked starting weapons for Scavenger
-Hydra: Now has nine heads and will work at stores; increased missile use by 1
-Pike Beam: Slightly decreased range and beam speed, uses an extra power, but charges slightly faster, deals double damage to systemless rooms, and has a good breach chance

Update for AE.1.1:
-Improved starting conditions for Scavenger: now starts with door system, lvl 2 battery, more missiles and drones, and both weapons take 2 power instead of 3
-New weapon graphics for the Scavenger's weapons
-Hydra: Decreased missile production cost from 3.3 scrap to 2-3 scrap. With decreased power cost, charge time has been increased by .8
-Modified Pike Beam: Decreased range and breach chance. With decreased power cost, it is now better than a hull beam.
-Fixed a Hydra event that had unintended beneficial outcome; must not have paid attention when I originally wrote it
The Enforcer - An elite Zoltan boarder police cruiser. Starts with 7 Zoltans and no reactor power. Why is this ship called elite? It doesn't even have a Zoltan Shield Bypass unit like the normal boarder police.
The Scavenger - An illegal mining vessel. Uses the Zoltan shield and big engines to escape danger, and low energy output to avoid detection. Weapons are designed for mining rather than combat, but they can still be quite dangerous, especially the Hydra Missile System. Uses a defense drone to protect against asteroids when mining.
Notes: The new AE Hydra uses the new Swarm Missile mechanics. It doesn't quite work how I expected it to, but the result is close enough to how it should be.
Videos:
5thHorseman
(Enforcer v1.0; 5 episodes)
BrenTenkage
(Enforcer vAE.1)
Rand118
(Scavenger vAE.1.1)
Credits:
FTL, Slipstream, Notepad, PSP7
Pre-AE credits:
5thHorseman and Superluminal