This is a Work in Progress mod in which I intend to flip the roles in the game - the player is a Rebel ship trying to topple the peaceful Federation. Currently, there's just the one ship, "The Calamity". However, it's a fully functional ship as is so I figured I might as well start getting some feedback.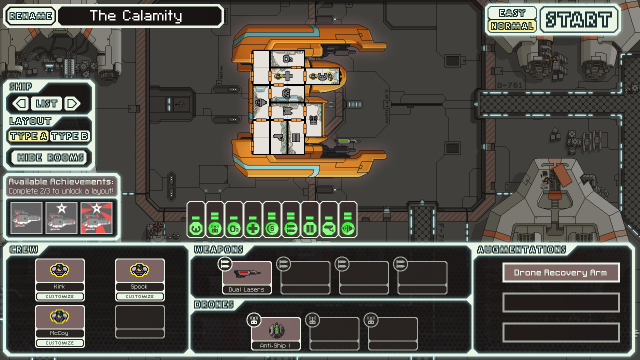 The Calamity, like pretty much every other single-ship mod ever, replaces the Kestrel A. If you find every system, all eleven rooms have a system in them. There's
nowhere
a boarder can beam on or a missile can hit that doesn't hit some system or other.

It's a pretty good early-game ship, although it's possible to easily end up in an unwinnable scenario if you lose your drone system for any reason. I also recommend trying to find a Defense I drone as soon as possible because, again, there's nowhere a missile can hit that doesn't mean system damage. On the flip side, Hull Lasers are fairly weak against this ship, so there's a balance there.
The only thing this ship doesn't yet have is a mini-icon for the ship list. If anyone wants to help me out by making one, that'd be a huge help. (I have no artistic skill at all.)
You Are The Rebel Download (Version 0.1.1)
(Requires the
Slipstream mod manager
)